Unlock opportunity with SHI and Lenovo
Lenovo and SHI are a powerful team dedicated to providing world-class solutions that meet the ever-evolving needs of our customers. Our unique combination of innovative products, services, and expertise makes us uniquely positioned to drive your success with reliable, secure technology that can take you to the cloud and beyond. We strive to revolutionize how businesses leverage their IT investments and future-proof their growth.
Lenovo is not only building high-performance devices but also developing meaningful partnerships that empower customers for a better tomorrow. Together with SHI's extensive experience in IT solutions, we have the capability to take you where your dreams lead.
Benefits of Lenovo solutions through SHI
Innovative technology
At Lenovo, we're always in pursuit of new solutions to tackle today, tomorrow, and beyond. We design, engineer, and build one of the world's most complete portfolio of smart devices and infrastructure. Our goal is to enable intelligent transformation to create better experiences and opportunities for millions of customers around the world.
Data center solutions
The world is more connected than ever, and most data is now being generated outside of the data center. We are here to help you speed things up by defining your IoT strategy and bringing compute capabilities wherever you need them. We also bring AI to the edge for faster processing with purpose-built solutions that use high-performance GPUs and your choice of integrated storage and data management.
Collaborative partner
Together with SHI, we have helped countless organizations, from healthcare, education, retail, manufacturing, logistics, professional services, and more re-think the way they use technology to revitalize their business through smarter solutions that leverage hardware, software, and services.
SHI is a
Platinum 360 partner

of Lenovo.

View more awards and certifications
Authorization Levels
Platinum 360
National Solution Provider (NSP)
Certifications
Technical Sales Certified (Servers, Storage, SDI, Services)
Data and Analytics Solutions
Thrive in a hybrid future with Lenovo PCs and Windows 11
New Windows 11 devices integrate hardware and software for powerful, out-of-the-box protection. Shield your valuable data and enable secure hybrid work with the latest advanced security. Streamline security management and deploy with confidence across diverse locations — including the cloud — all with the new Windows 11 Pro.
Windows 11 Pro is designed for hybrid work and features:
Next-level security
Productivity and collaboration
Simplicity and low-cost total ownership
What's New: Purposeful innovation everywhere
Services and Sustainability
Lenovo Premier Support Plus
Lenovo offers a comprehensive portfolio of cost-effective services that support and protect your investments through the full lifecycle of your Lenovo IT assets.
Premier Support Plus provides faster issue resolution, protects your investment, and prevents IT issues before they become problems.
We're all about connecting those who need support with those who are best prepared to provide it. Your users get direct access to advanced technicians who provide better, faster solutions that work every time – anytime, anywhere.
The result? Reduced downtime, increased productivity, and a much better employee experience. Check what else Premier Support Plus can do for your workforce, your IT teams, and your business.
Data center-like computing at the edge, the flexible way to power your innovation
IT is no longer confined to standalone data centers. It's distributed across a mix of on-premises servers, public cloud, and an increasing share of infrastructure at the edge.
One of the most significant opportunities for IT decision-makers is deciding how to harness their data from edge to cloud.
Lenovo's ThinkEdge portfolio has purpose-built devices designed to be networked on-premises. Or embedded in solutions, to give you the advantage in performance, security, and scalability.
Lenovo ThinkEdge Servers — IT infrastructure you can trust
Data management and storage solutions
Lenovo's smarter infrastructure solutions for data management
Lenovo smarter infrastructure solutions for data management.
Lenovo delivers industry-leading, scalable end-to-end Storage and Data Management Solutions that help you:
Accelerate application performance to deliver faster results.
Simplify data management across hybrid, multi-cloud environments and workloads.
Optimize data protection and management to reduce costs and increase ROI.
Lenovo's storage solutions help you deliver faster results, manage data easily from edge to cloud, and reduce your infrastructure costs.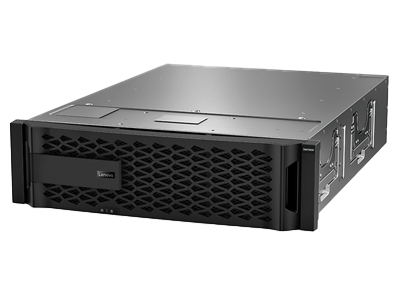 Software-Defined Solutions
Simplify your IT and speed to value with Lenovo
Modernize your infrastructure from inflexible, expensive, and difficult to maintain to an environment that provides scalability, high performance, and world-class reliability. Quickly and easily deploy a VMware vSAN based hyperconverged solution with Lenovo ThinkAgile VX Series. VX Series allows you to focus on building your business rather than building your infrastructure.
Discover a new hyperconverged architecture
You might also be interested in: